Some food enthusiasts like the duck meat to be cooked perfectly crispy, well grilled and the flesh inside to be soft. Some foodies like it to be spicy, juicy and of course well barbequed. Nonetheless people who desire to eat duck flesh mostly want to taste duck breast for its tenderness.
There are ample ways adapted to cook duck breast, however if you are new to cooking then it is best to stick to simple methods to deliver tasty duck breast dish.
Here is one easy to follow recipe:
Marinate duck breast:
Season duck breast with curd, red chilli powder as per taste, paste of ginger and garlic paste, salt as required and lime juice.
Before seasoning make sure to make small cut marks on the flesh. You need to envelope the whole flesh of duck with the mixture.
Keep the marinated flesh covered in refrigerator for four hours minimum. This helps in acquiring the right crisp level.
Cook marinated duck breast:
You need to remove the marinated flesh from the refrigerator at the least thirty minutes before you start cooking it. It helps to bring the meat to be in normal temperature.
Heat oil or butter in a pan (mixture of both will help to cook the meat crispier).
Gently place the whole meat in the pan and reduce the flame.
You can even do it in barbeque style or convectional cooking in your oven.
After the whole cooking is done keep the duck breast over flattened lettuce leaves before you serve. You can sprinkle more lime juice to make it tangy and tastier.
You can add flavour to the meat by toasting it with seasoned onion, capsicum, Broccoli and even with sliced potatoes. It will surely seem to be mouth watering while lying in the center surrounded by grilled or fried veggies.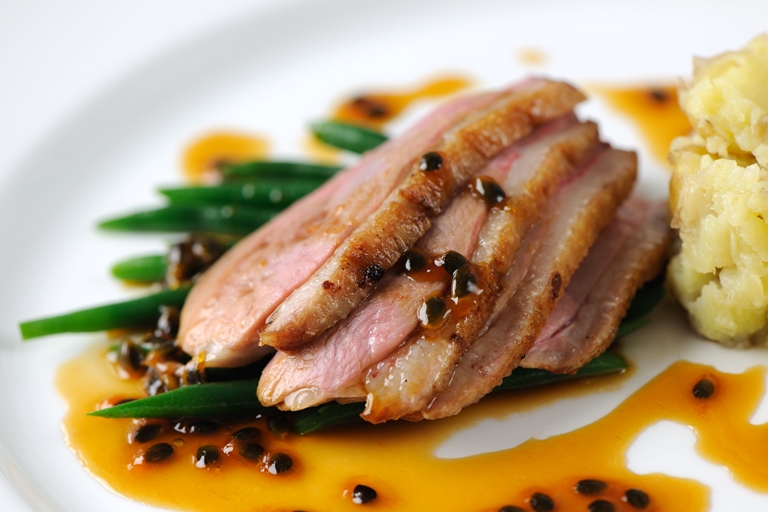 Tips:
To have a crispy skin, keep the skin side down in the pan while cooking duck breast.
To make the dish less fatty, you can remove the duck skin.
The duck fat can be used to fry other vegetables that combine well with
Duck meat.
While serving make sure that the temperature of the duck meat is appropriate to relish its taste without burning the tongue.
However, you need to have best ducks to cook a superior tasty meal. If you are living in Canada, no worries as you get the best when you place an order on canardsdualcbrome.com. They hold top most rating in selling fresh duck and even soft and tender boneless duck breast in required quantity. Thus, buy from them and enjoy cooking your meal and relish the best cooked duck breast.