Brand names are a mark of identity for any organization. Hence, its importance cannot be overlooked. Over the years, a number of large brands across the globe have opted to change their brand name and identities, especially when trying to expand into a new region or country. Take, for instance, Hungry Jack's Whopper. This is famous in the UK but is known as PFC in Canada and as Burger King in Australia. Similarly, Coco Pops is a popular brand name, however in the US, it is widely known as Cocoa Krispies, whist in South America it is known as Choco Krispis. Moreover, it is called Choco Krispies across Europe. Depending on where you are, brand design/packaging and name can come in a completely different look from what you are used to.
Brand executives don't wake up and decide to change vital parts of brands such as name and packaging, There are reasons behind brands with different names and logos in different countries caused by one of the following reasons:
Other existing brands and trademarks – Most countries have similar brand names to these companies. When Burger King expanded into Australia, it was quite apparent that their iconic name was already in use. As a result, Hungry Jack's was named, courtesy of the Australian franchisee, Jack Cowin – a title they previously held trademarks for.
The difference in language – for example, Kentucky Fried Chicken is widely known by PFK in Canada's French-speaking Quebec region because local laws insisted that the restaurant takes the initials of the French name, Poulet Frit Kentucky.
Translation issues – the Chevrolet Nova sounded like a good idea in English. However, those who understood Spanish, the translation of "no va" as "doesn't go" isn't the best option for a new car. Hence the need to change the brand name in this region.
Previous connotations – across Europe, Diet Coke, goes by Coca-Cola Light as the word "light" is often associated with lower-calorie items as opposed to "diet" is in these areas.
Online label company, Data Label has researched a variety of popular brands around the world, finding out which of our favorites use different names and even logos in other countries. The company has designed an infographic highlighting the most common names for brands known by different names in various locations.
Lays is an international chips brand. The US company,  introduced in 1932, has controlled a good number of potato chip varieties around the world. "Lay's" is the primary brand of the company. However, it goes by a lot of brand names across various continents and countries. Across the United Kingdom, it is known as Walkers, in Austria and Brazil, it is known as Smiths and Chipsy respectively.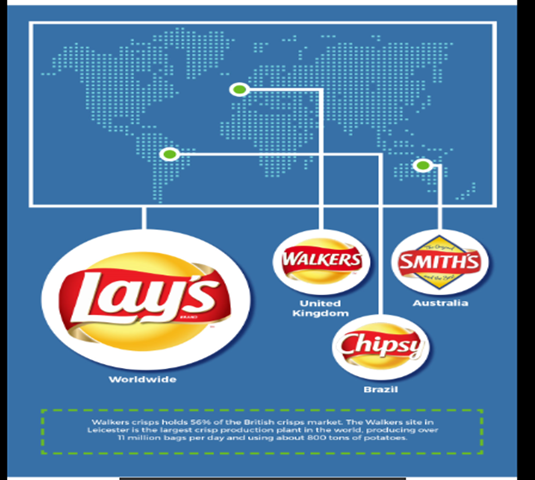 Kellogg's is an international breakfast cereal manufacturing company, and produces the popular chocolate cereal coco pop. The cereal company was introduced into the United States in 1958, and by 2003, they had already established branches in over 15 countries all across the globe. Coco Pops is a perfect example of a brand that blends into different societies and strives to thrive. Over the course of spreading into different countries, the brand name has also changed to suit new markets. Coco pops goes by various names in different countries;  Cocoa Krispies in the US, Choco Pops in France, Choco Krispies in Europe, and Choco Krispis in South America. While the names are not the only thing that has changed; the packaging also differs slightly in these various countries.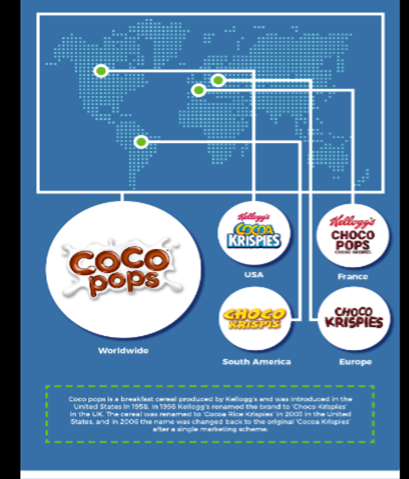 The Walls ice cream company was founded in 1786 by Richard Wall. It is currently owned by Anglo-Dutch food and personal care conglomerate Unilever. The brand is globally known around the world with its famous heart logo but goes by 27 different names across the globe. The heart brand cuts across different countries such as Saudi Arabia, Qatar, Saudi Arabia, Pakistan, and Mauritius and so on. Its name across different countries include; Miko in France, Frigo in Spain, Streets in Australia, Algida in Eastern Europe. Bresler in Chile, Magic in Sri Lanka, Eskimo in Austria, Frisco in Denmark, GB glace in Scandinavia. Its known as Good Humor in the USA, Helados in Columbia, Holanda in Mexico, Ingman in Nordic countries, Uhmapko in Russia, Kibon in Brazil, Kwality Wall's in India, Langese in Germany, Lusso in Switzerland and Tio Rico in Venezuela. Other countries, such as Romania know it as Napoca, the Philippines call it Selecta. Portugal, South Africa, Belgium, and the Netherlands know it as Ola, whilst Ecuador Pinguino. Finally,  it is known as HB in Ireland. Walls Ice crème is indeed one brand with many different faces.
Burger King  was founded in 1954 and was initially known as 'Insta-Burger King' until James Mclamore, and David Edgerton bought the company and renamed it as 'Burger King 'and created its signature burger, the 'Whopper'. It is widely known as Hungry Jack in Australia.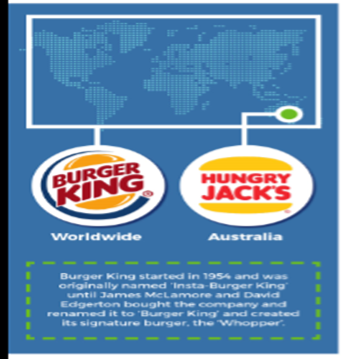 Milky Way was introduced in 1923 by Frank Mars, which issued two flavors of chocolate and vanilla. In the USA it is known as 3 Musketeers.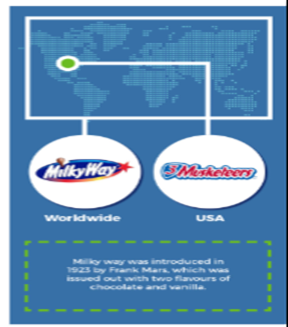 Galaxy chocolate is also widely known as 'Dove' in many countries outside the UK. The chocolate bar was first manufactured in 1960 and is ranked as the second favorite chocolate after Cadbury Dairy Milk.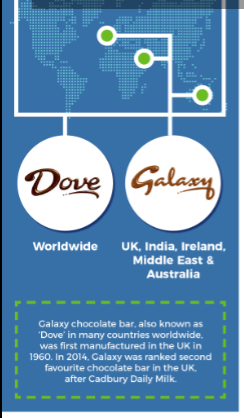 This unique breakfast cereal is popular for its famous slogan 'snap, crackle and pop', coined because of its characteristic sounds when milk is added to it. However, in Australia and New Zealand, the cereal is known as Rice Bubbles.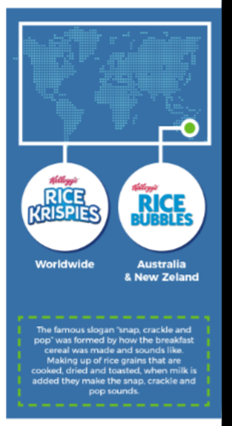 Pocky is the worldwide brand name for the famous Japanese chocolate coated biscuits. However, across Europe, it is known as Mikado. The biscuit comes in varying flavors such as banana, chocolate and coconut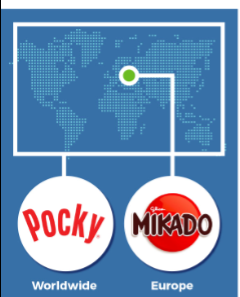 Kentucky Fried Chicken is officially known as KFC and was founded by Colonel Harland Sanders. The first KFC franchise opened in Utah in 1952. However, the French-speaking Quebec regions know it as 'PFK' (Poulet Frit Kentucky).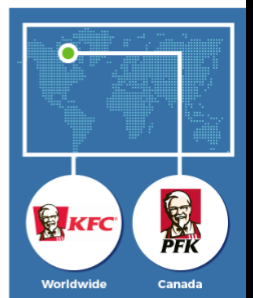 Philip Carlyn, Managing Director at Data Label, said: "It's interesting to see just how many brands go by different names around the world – what we've outlined in this infographic is just a snippet of the many examples we've looked into. The reasoning behind these differences also highlights the need for proper research into branding before launching a new company to avoid any potential trademark or translation issues, particularly if you're looking to expand in future."